Green Inspired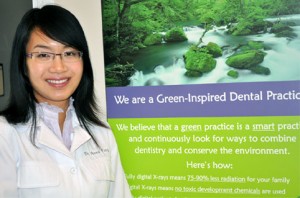 Richmond Green Dental Care is a green-inspired dental practice.
From the construction of the practice to running the office in an environmentally friendly manner.
We believe that a green practice is a smart practice and continuously look for ways to combine dentistry and conserve the environment.
Ask us about our green initiatives!
We use digital imaging (not traditional x-rays), which means 75 to 90% less radiation for our patients and we don't have toxic x-ray development chemicals
We use digital patient charting to reduce paper waste
We use steam-based instrument sterilization which contains no harmful chemicals
We use a special filtration system to allow environmentally sound disposal of old mercury fillings, to prevent pollution of our water system
We use a high efficiency vaccuum system that results in reduced water usage throughout the practice
Our office is built using energy efficient lighting throughout the practice
Our office is equipped with energy conserving appliances
Our walls are painted with low volatility paint for even better breathing comfort
Our office is cleaned using gentle, environmentally friendly cleaning products
We recycle bottles, cans, paper and shipping boxes